8 Helpful Ways to Make the Most of Your Invisalign Treatment (Plus Facts about Invisalign)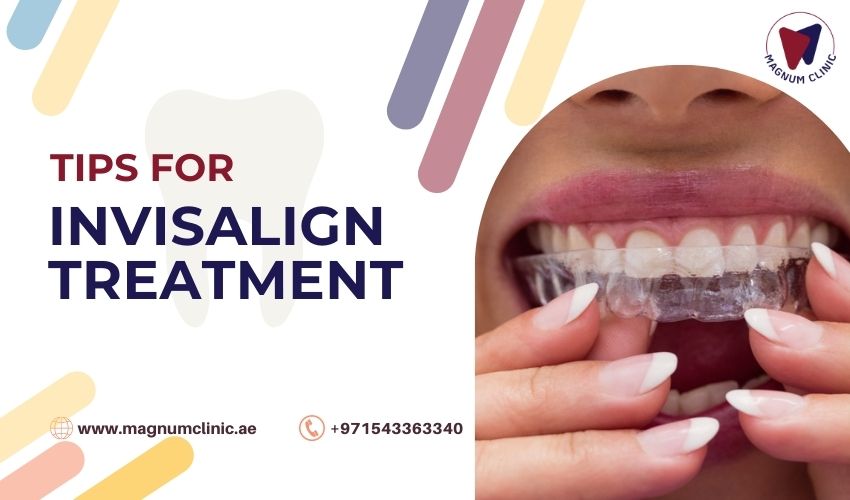 If you want to straighten your teeth while perfecting your smile without having traditional braces, then Invisalign treatment can perfectly fit your bill.
Setting a plan during Invisalign treatment plays a crucial role in getting the maximum benefits out of it.
When done properly, Invisalign offers a discreet and fantastic alternative to metal brackets, as they are less painful and more comfortable.
In this blog, we will share tips to ensure that you're on the right path to getting straighter teeth as a goal of your treatment procedure.
Continue reading till the end to get bonus content that will help you to get more insights.
What is Invisalign treatment?
Invisalign treatment is helpful to straighten your teeth without feeling the pain of traditional metal braces. It uses hygienic clear plastic aligners for orthodontic treatment. These plastic aligners will be placed over your teeth to allow them to move gradually. Therefore, it will straighten your teeth alignment without even getting noticed by people.
1. Don't forget to brush your aligners regularly
Your Invisalign trays should be cleaned like you brush and floss every morning and evening. Otherwise, it can develop bacteria and plaque between the trays. It is equally bad for oral health.
How to clean the aligners?
Use an antibacterial soap and lukewarm water to eliminate the bacteria buildup from the trays.
Use special crystals to remove plaque from the aligners.
You can use toothpaste to clean the aligners.
2. Refrain from using mouthwash
The maximum mouthwash available in the market contains harsh ingredients that can stain or damage the aligners. As Invisalign trays are made of plastic, they can react with the dyes present in mouthwash. It can warp the shape of the trays over time.
How to use mouthwash after performing Invisalign treatment?
Remove the aligners while using mouthwash
Ensure your mouth is rinsed thoroughly before putting your trays again.
3. Wear the aligners for a maximum time a day
Getting used to wearing the removable aligners may take time. However, you must wear the aligners for at least 22 hours daily. It will help your teeth to straighten out. Therefore, it keeps the treatment time getting extended.
When should you remove the aligners?
If you're brushing/eating/flossing your teeth, don't forget to remove the aligners.
Remove the aligners when you need to clean them regularly
Also Read : Benefits Of Dental Implants
4. Don't use hot water to clean the aligners
You may think that using hot water may be conducive in killing germs and bacteria. However, it will damage the aligners. Plastic trays are durable. Still, exposing the same to hot water or other forms of heat can change the shape of the aligners.
How to clean the aligners?
You can use lukewarm water along with crystals to clean the aligners.
Soak the aligners in an antibacterial solution and rinse it
Keep it in the air for 5-10 mins to dry completely.
5. Use a retainer case
Once you remove the clear aligners, you must put them in a retainer to keep them fresh. Otherwise, it can develop bacteria if it comes with the touch of anything. You need to maintain your aligners while running errands.
Should you keep your retainer case open or closed?
Use a case that has good airflow instead of being sealed. It will prevent further bacteria and plaque buildup.
You can keep your retainers clean by soaking them in an anti-bacterial liquid. Make sure you're not avoiding any harsh chemicals while performing the same.
6. Avoid sugary and caffeinated beverages
It would be best for you if you avoid caffeinated and sugary drinks while wearing your Invisalign. You can drink normal water once you have the aligners in. However, if you drink any sugary beverage like cold drinks or juices: rinse the same soon to avoid bacteria and staining.
What is the best drink after Invisalign?
Water is the only safe beverage while wearing Invisalign aligners. It helps protect your aligners and teeth to achieve the best results within the given time.
Read Also : Teeth Whitening: Everything You Need To Know
7. Remove the aligners before eating
It may be uncomfortable for you to eat while wearing Invisalign trays. They are not designed to take hard food pressure or repeated chewing. If food particles get inside the aligners, it may be the breeding ground for harmful bacteria.
How to eat/chew food while wearing the Invisalign?
Always remove the trays while eating. Also, don't forget to rinse your mouth before replacing the aligners.
8. Consider cracks and rough edges seriously
Your Invisalign may develop cracks while wearing them for a while. It may happen due to accidentally eating anything or taking the aligners out repeatedly. You must take those cracks on a serious note.
What should you do if you see cracks in the aligned tray?
You must consult with your dentist once you notice any damage. Otherwise, it would potentially affect the treatment.
Bonus content: Top facts you must know before starting Invisalign
So, you got the insights that entail the do's and don'ts while performing Invisalign treatment. We will provide some extra knowledge to make you sound better before proceeding with the Invisalign treatment.
Invisalign treatment is suitable for a wide range of dental cases
Invisalign treatments are completely invisible, which means nobody will get to know that you're undergoing treatment.
It may be uncomfortable to wear the new aligner for the first time, as it takes time to fit in.
Once you start wearing Invisalign, it may be uncomfortable for you to speak clearly. You may develop a lisp. However, this is temporary. It will improve over time.
You need to wear an Invisalign retainer after treatment to ensure the teeth are in the correct position.
Do you think Invisalign dental treatment would be proper for you?
Now that you have an idea of what things you need to do during Invisalign treatment, it's time to answer one simple question-
What is the first step you're going to take? 
If you're going to consult a dentist about straightening your teeth, Magnum clinic can help you with the same by fixing an appointment with the oral care experts.
And if you're determined to undergo Invisalign treatment, still Magnum Clinic would be your helping hand by providing world-class treatment facilities and regular checkups.
Contact us today for the best Invisalign dental treatment that preserves your sparkling smile.