Common Myths About Dental Implants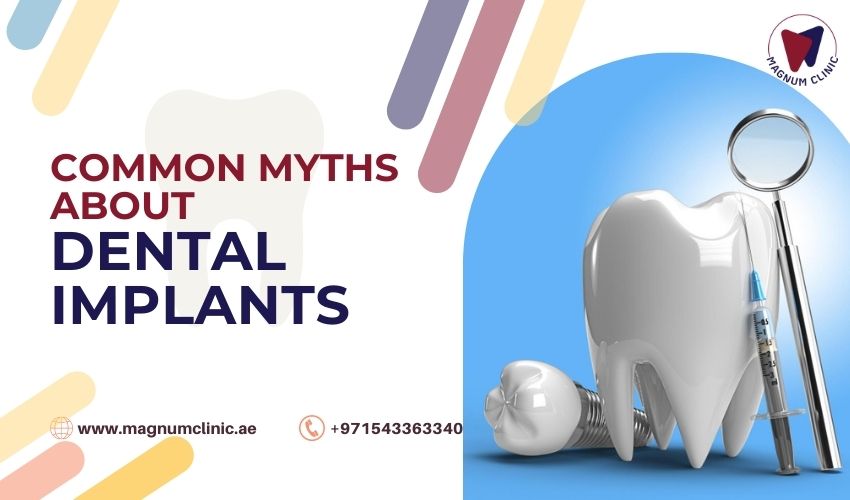 The best way to replace any missing tooth is with dental implants. Though the treatment of dental implants is well-known and advanced, there are many misconceptions about dental implants and how they work. Here are 10 common myths about dental implants and their truths.
Some Myths About Dental Implants That You Should Not Believe
1. Dental implants look unreal and are noticeable.
Some people say that dental implants don't look natural, and some say that they can see the metal base of implants near the gum line, but this is not true.
The design of dental implants is similar to that of natural teeth. Fixed restorations are placed on top of the implants, called dental crowns or bridges, with perfect shade matching so they cannot be differentiated from the adjacent teeth.
The truth about dental implants is that they are almost always undetectable compared to the other types of tooth replacement available.
They are undetectable even to the person wearing them.
Dental implants can be placed in older individuals with medical conditions if they are under control.
2. Is it not possible to get dental implants in old age?
People can be too young to get dental implants but never too old.
It is possible that young individuals are not ideal candidates for dental implants since their jaws have not fully developed.
But older individuals are completely fit to get dental implants.
Some older individuals with serious medical conditions like diabetes, blood disorders, or gum disease may not be suitable for dental implants. Dental specialists will check and decide accordingly.
Dental implants have been successfully placed in individuals 90 years of age and older.
3. A lot of maintenance is required for dental implants.
There is a common misconception about dental implants that they require more maintenance, which is false.
Dental implants require less maintenance compared to dentures, as they do not need to be removed and cleaned.
whereas dental implants are fixed in the bone and protected by the crown or bridge covering them on top.
The truth about dental implants is that they require the same amount of maintenance as your natural teeth do.
4. Dental implant surgery is very painful.
Another common myth about dental implants is that the procedure is very painful, which is again not true.
The dental implant procedure can be performed completely under local anesthesia, but some patients prefer deep sedation.
There may be slight discomfort after the procedure, which usually disappears in a few days.
5. Severe headaches occur after dental implant treatment.
This is a recent myth about dental implants that is false.

A 

headache 

following 

implant 

surgery 

could 

be 

caused 

by 

any 

surgical 

complication, 

which 

is 

a 

rare 

occurrence.

Damage to the underlying nerve during surgery can lead to headaches.
Headaches can also occur due to TMJ problems.
Also Read: Benefits Of Dental Implants
6. Dental implants are not affordable.
Another common misconception about dental implants is that they are not affordable and too expensive, which is not true.
They are the best investment for your dental health as they have the best returns compared to any other form of tooth replacement.
Dental implants last longer compared to dentures or bridges.
Dental implant treatment can be financed, and some insurance policies also cover dental implant charges, at least partially if not completely.
7. Dental implants can be given only to people who have lost all their teeth.
This is a common myth about dental implants that they can only be placed in individuals who have all their teeth missing.
The truth about dental implants is that they are ideal for replacing single or multiple teeth.
Yes, people with all their teeth missing are ideal candidates for dental implants, but they are also perfect for replacing single or multiple teeth.
They help reduce bone loss and help in the reinforcement of adjacent teeth.
8. Dental implants make eating and speaking difficult.
This is a complete false statement.
The design of dental implants is made in such a way that they feel and look like natural teeth.
As they are fixed in the bone, they function as natural teeth and do not cause any problems in chewing and speaking.
Because of their natural look, they improve your smile and help boost your confidence.
Read Also : Guide To Root Canal Treatment
9. Dental implants cannot be placed if the tooth extraction was done a long time ago.
Having missing teeth for many years results in a loss of bone density.
If the tooth was lost or extracted many years ago, it may not be an ideal case, but still, dental implants can be placed.
A procedure called bone grafting helps improve the density of bone and aid in dental implant placement.
Your dentist will perform a careful evaluation and inform you if dental implants can be placed for you with bone grafting.
10. It takes a long time to recover after dental implant surgery.
Dental implants do require time to heal and fuse with the jawbone so that they can provide adequate support for the prosthesis.
It takes roughly three to six months for it to heal completely; it may take longer to heal in some patients with medical conditions.
If a bone grafting procedure is required before dental implant placement, it requires an additional three to six months to complete the integration of the graft with the jawbone.
As dental implants last a lifetime, six months to a year of recovery is a fairly short recovery period.
Conclusion:
Now that the myths about dental implants are debunked, we recommend you visit your dentist to get your missing teeth replaced.
Frequently Asked Questions
1. What are the negative effects of dental implants?
The negative effects or risks involved with dental implants are,
Infection at the site of the implant
Injury or damage to the teeth or tissues near the implant
Damage to the nerve can lead to a tingling sensation or numbness in the chin or lower lip.
Improperly placed upper dental implants can cause sinus problems.
2. Will there be problems after a few years of dental implant placement?
Dental implant treatment has a high success rate.
With proper maintenance, dental implants last a lifetime.
However, in some rare cases, due to a wide range of reasons, something may go wrong, resulting in infection.
Most commonly, infection occurs in the gums surrounding dental implants, a condition known as peri-implantitis.