Can Metal Braces Significantly Improve Oral Health?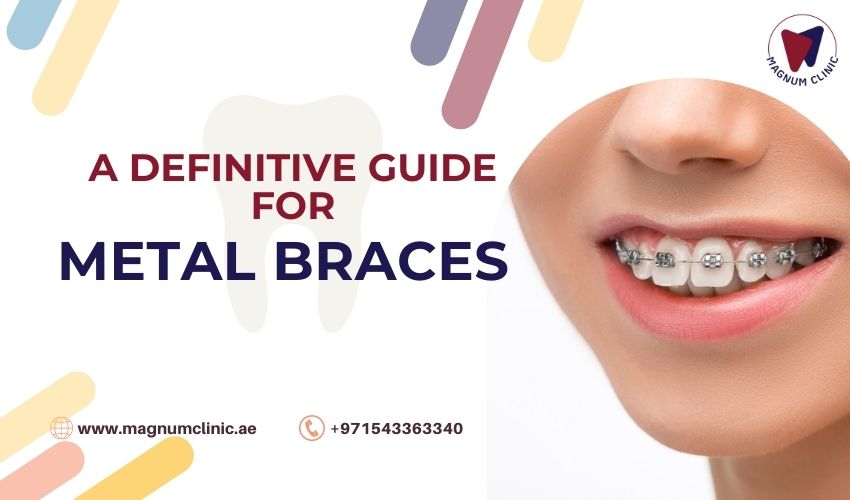 Metal braces can help you close gaps, straighten teeth, and fix overbites and underbites.
According to a study, metal braces are much more effective than clear aligners in treating teeth rotation, malocclusion and retention after brace removal.
If you will consider metal braces for your teeth but are still trying to decide what to expect, this blog is meant for you.
Let's start with a brief introduction to metal braces.
What are metal braces?
Made with high-grade stainless-steel brackets, metal brackets are orthodontic appliances for your teeth. They are held together with metal archwire and nontoxic dental cement. The brackets and archwire work with the rubber ligature elastic bands. Metal braces for teeth gradually straighten the teeth.
Traditional metal braces are accepted by many individuals who are suffering from misaligned/ crooked teeth.
Why do you need metal braces?
Conventional metal braces can help you by eliminating the misalignment issue. Here is why you need metal braces-
Overbite- Do you feel that your bottom tooth sometimes bites the roof of your mouth? Or does your bottom tooth gets disappear during your bite? It may be the issue of overbite. Left untreated can lead to front teeth and gum tissue damage. Metal mouth braces may improve this issue. Over time, it can improve the appearance of your smile.

Open bite- If you experience a noticeable gap between your lower and upper teeth, you may suffer from an open bite. You will need help with eating and speaking. Also, you may experience tongue thrusting. Metal dental braces can correct your smile over time. Consult with a dentist to assess the present situation.

Underbite- You may suffer from underbite if your front teeth overlap with the lower one while smiling. It can be detrimental, especially when you're talking or eating. It can increase the risk of oral injury. Metallic braces can help you by eliminating this issue.

Crowding- If there is not enough room in your teeth, your teeth may overlap. Metal braces can help you fix this problem. As metallic braces straighten your teeth, plaque won't form easily.

Spacing- Irregularly spaced teeth may create wide gaps in your smile. It will happen when the teeth are comparatively small. Consequently, a missing tooth can also cause gaps. If left untreated, food particles may get stuck between your teeth. It can lead to cavities, bad breath and other dental issues. Metal mouth braces can close the wide gaps while safeguarding your oral health.
Benefits of metal braces
Improving your smile with properly aligned teeth is still a dream for you. You may have a plethora of options to choose from, including lingual braces, clear aligners and ceramic braces. However, conventional metal braces offer various effective advantages that you're looking for. Here you go-
1. Suitable option for complex cases
Metal teeth braces is one of the best effective teeth alignment solutions. It allows the orthodontists to correct the teeth alignment by planning and shifting your tooth. It offers dramatic results for the following complex cases
Teeth gaps
Crossbites
Misalignment of teeth
Overcrowding
Protruding of teeth
Overbites
Underbites
Discuss with your dentist about your issue. Based on your present oral health scenario, hatch up on your next steps.
2. Affordable
Conventional metal braces are affordable compared to teeth alignment tools. The cost of metal braces can vary in Dubai. Some insurance companies cover metal mouth braces. Check the latest availability based on location and requirements.
3. Durable
Traditional metal braces can last for a long time. Even it can withstand everyday wear and tear caused by brushing and chewing food. Stainless steel or titanium is used to create metal braces. Both of these materials are durable and breakage resistant.
You can carry out rigorous exercises to wear metal teeth braces. However, avoid hard and crunchy foods during your treatment span.
4. Works fast
If you take good care of metal braces, they will work efficiently as desired. It can be a worthy investment once you follow the restrictions while wearing braces. It is designed to provide optimal performance with less complexity.
5. Improves your smile
Once you undergo the metal mouth braces treatment, you will see the improvement of the smile in your own eyes. It will adequately align your crooked/crowded teeth. Flaunt your smile while taking photographs and meeting new people.
6. Provides consistent dental care
Metallic braces stay in place by aligning your teeth until you finish the orthodontic treatment. It ensures that there is no interruption between your treatment and dental care. These braces would be great for you if you don't have the time to schedule multiple appointments. It will start working immediately once the orthodontist places it on your teeth.
Tips to take proper care of metal braces
There are certainly best practices and restrictions that you need to follow to get the best outcome. However, always follow the dentist's recommendations. Here are some tips-
Choose proper floss, mouth rinse and toothpaste to fit your teeth and the bracket wires.
Use a toothbrush having softer bristles, which won't harm your braces. Also, use gentle pressure while brushing.
Use angled motion while brushing away the food particles from the top of the brackets.
Brush every tooth to remove bacteria.
Floss your teeth at least once a day
Apply an oral irrigator to clean your braces and teeth
Your gum, teeth and alveolar bones need more proteins when you wear metallic braces. Eat those foods only recommended by your dentist. Also, avoid eating crunchy and hard-to-chew foods.
What is the cost of metal braces in Dubai?
The price of metal braces is around AED 5000 to 15000. The cost may be higher based on complex situations as it may need more time to alleviate. You need a good orthodontist to work on the braces while adjusting them correctly. 
Improve your smile today
You don't need to cover your mouth while smiling. Traditional metal braces will lead you towards an attractive smile with well-aligned teeth. At Magnum Clinic, our experts are ready to examine your present teeth condition. They could be an excellent option for fixing your teeth without leaving you panicked. If you have the confidence, give us a call now!