The Ultimate Guide to Dental Braces - A Comprehensive Overview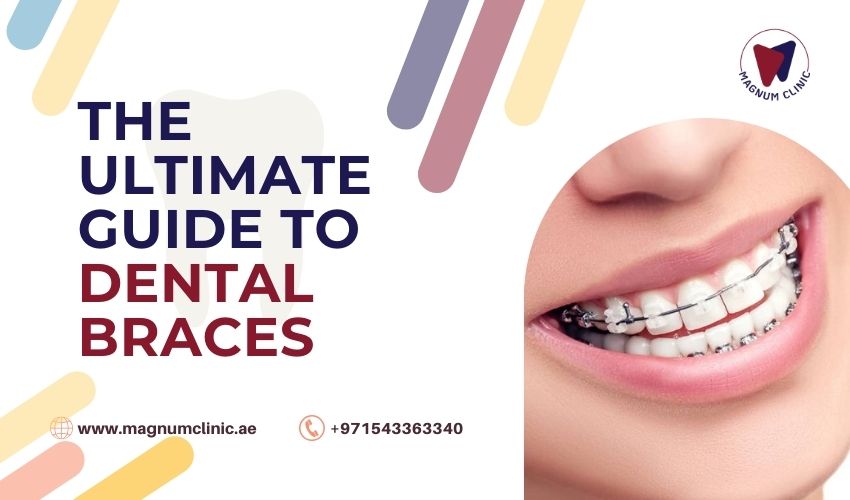 Are you looking forward to getting dental braces? Is this your first time, and you are confused if dental bracing is a good option for you? Do you want to know how to care for your dental braces and what foods you need to avoid while having braces? If all such questions are boggling your mind and you are looking for an accurate and Ultimate Guide to Dental Braces you are in the right spot.
This "Ultimate Guide to Dental Braces" covers all the questions related to dental braces and orthodontic care for them. Let's take a look at them.
What are Dental Braces?
Orthodontic devices that are used to straighten the structure of teeth are termed braces or dental braces. These can fix a variety of dental issues, such as crooked, misaligned, gapped or crowded teeth. 
What are different types of Dental Braces?
Depending upon the orthodontic issues, dentists suggest different types of dental braces to the patients. Here are the main and popular dental braces that are used by dentists for providing the uniform teeth structure to the patients. Let's check out the list of dental braces available.
These are the most common types of dental braces that you might have seen or can find in dental clinics. It is composed of standard metal brackets and wires. Metal brackets are affixed to the teeth through a dental cement while metal wires are used to move teeth into uniform alignment.
It is the same as the Dental braces and only differs in its composition. These types of dental braces are made of Ceramics and can be colored as per your tooth enamel. It is preferred by people who don't want their dental braces to get noticed.
Another metal braces that are affixed on your teeth to give them an uniform structure. The only difference is that these are unnoticeable and it is hard to guess if they are placed or not. However, you may find these types of dental braces very uncomfortable. These are mostly suggested for the people with very crowded teeth or teeth with large spaces.
Invisalign is used to straighten teeth with aligners, a custom made plastic tray that is fitted to your mouth. It is a great alternative for dental braces. Since it is hard to notice, Invisalign is very popular among teens and adults, especially those who are very conscious about their looks and appearance. Moreover, Invisalign is not fixed permanently and you can remove them during eating. Among all the types of braces for teeth, these are very comfortable.
How Long Do Braces Take To Straighten Teeth?
The duration of wearing dental braces depends upon the complexity of the teeth structure. The more correction it needs, the more time it will take. However, in general, the minor orthodontic issues such as mild crowding or spacing issues may fix within six to eight months while the increased complexity and severe dental fixing may take up to twelve to eighteen months.
Do Braces Hurt?
Fixing Braces doesn't not hurt but it is surely discomforting. Especially when we talk about Braces for children and teens, the discomfort is more as compared to adults. In such cases, orthodontists recommend pain relievers and numbing gels that give a major relief. Overall, this discomfort is for a shorter period of time, generally the first or second week after treatment.
Are Braces Worth It?
Definitely! There is no denial in saying that dental braces are worth time, pain and money. Unlike the popular view, it is a very affordable orthodontic treatment which really gives your results. It may be a very lengthy process but it has the power to straighten your teeth and give you the smile that you have always desired.
What Happens After Braces are Removed?
Braces are usually removed once your teeth straighten or get the uniform structure that you have expected. However, there is some little movement which is part of the natural settling of teeth. With regular dental checkups and taking proper care of your teeth, you may have strong, beautiful and straight teeth for years.
How to Take Care of Your Braces?
Since dental braces are affixed for a long time, it is important that you know how to take care of them. After all, a good care of braces is directly proportional to a permanent and desired teeth alignment. So, let's read what are the do's and don'ts that you need to learn while having the braces.
Braces Care and Maintenance
Having dental braces means you need to take care of what you eat or drink. It is not advisable to eat food that is hard or sticky. Metal braces require special care and there is a list of foods that you need to avoid while having them on your teeth.
List of Foods to Avoid When Wearing Braces
Do not eat sticky foods such as candies, bubblegum, gummy bears, candy bars, caramel, fruit roll ups.
Avoid eating food that is hard. For instance, ice, nuts, popcorn, chips, hard candies, taco shells.
Do not eat beef jerky, bagels, pizza crust or any chewy food.
Avoid crunchy vegetables such raw carrot, apples, and pears that urge you to use your front teeths. It is better to cut them and then eat in small pieces.
Avoid acidic drinks as they affect your tooth enamel and erode them
List of Food You May Eat Wearing Braces
You may drink soups and eat cooked vegetables and warm broth.
You may choose oatmeals as part of your routine as they are not just delicious but also very nutritious.
Eating yogurt and making a smoothie with vegetables and fruits will work best while eating with braces.
Pasta, soft food and fruits can be the best option with any types of dental braces.
Soft cooked rice and other cooked grains that are easy to eat and swallow are very beneficial with braces for teeth.
Proper Brushing
No matter if you have got the best braces for teeth, you need to know what is the best way to brush them. So, ask your dentist and know what is the proper way to brush. In general, it is suggested to place your toothbrush at a 45 degree angle and then gently clean all the gums and teeth without hurting the braces. Moreover, use listerine and water so that you may keep your braces clean and disinfected.
Take Regular Cleaning Sessions with Dentist
Regular cleaning is important for braces and oral health. Since only brushing can not clean the areas where the braces are fixed, you need a dental specialist. Dental cleaning with special tools can help you maintain oral hygiene.
Key Takeaways - Guide to Dental Braces
Braces are life changing. It may seem challenging but it is worth it. So, if you are thinking of getting braces for your teeth, then contact your dentist and ask them what braces can be best for you. Also, you may choose alternative options for better dental alignment.