What Are the Different Types of Dental Braces and Their Pros and Cons?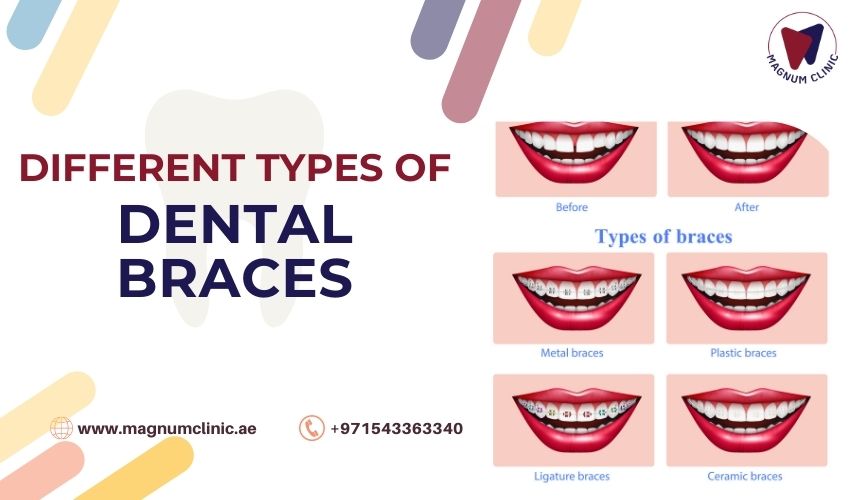 Regarding orthodontic treatments, dental braces have been a popular choice for correcting misaligned teeth and achieving a beautiful smile. Over the years, advancements in dental technology have led to various dental braces, each with unique advantages and disadvantages. In this article, we will explore the different types of dental braces available and discuss their pros and cons to help you decide which option may be best suited for your specific needs.
What Are Dental Braces?
Dental or orthodontic braces are devices used to straighten and align teeth. They consist of brackets bonded to the teeth and wires that apply gentle pressure to move the teeth gradually into their desired positions.
Why Are Braces Needed?
Dental braces are recommended to correct dental issues, including overcrowding, gaps, overbites, underbites, crossbites, and crooked teeth. These issues affect not only the smile's appearance but also oral health.
1. Traditional Metal Braces
Traditional metal braces are the most common and recognizable type of braces. They consist of metal brackets affixed to the teeth using adhesive and an archwire that connects them to apply pressure and gradually move the teeth into the desired position. While they are highly effective, some people may feel self-conscious about the visibility of metal braces.
2. Ceramic Braces
Ceramic braces are like traditional metal braces in design but use clear ceramic brackets or tooth-colored instead of metal ones. This makes them less noticeable and more aesthetically pleasing, making them a popular choice for those who want a discreet option for teeth straightening.
3. Lingual Braces
Lingual braces are unique in that they are placed on the backside of the teeth. They offer a discreet treatment option for individuals who wish to straighten their teeth without the appearance of braces. However, lingual braces can be more challenging to clean and may cause initial discomfort.
4. Invisalign
Invisalign is a popular alternative to traditional braces, using removable aligners and gradually straightening teeth. These aligners are custom-made for each patient and offer the benefit of being nearly invisible, providing a more comfortable and aesthetic treatment experience.
5. Self-Ligating Braces
It works similarly to traditional braces but does not require elastic bands to hold the arch wire. Instead, they use specialized brackets with a built-in sliding mechanism, reducing friction and potentially shortening treatment time.
6. Clear Aligners
Clear aligners are similar to Invisalign but may come from different brands. They provide a removable and discreet option for teeth straightening, allowing for easier cleaning and maintenance than traditional braces.
Pros and Cons of Different Types of Dental Braces
1. Traditional Metal Braces
Pros:
Highly effective for complex teeth misalignments.
Usually more affordable compared to other options.
Suitable for patients of all ages.
Cons:
Visible appearance may affect self-esteem.
Regular adjustments may cause temporary discomfort.
Restrictions on certain foods to prevent damage to braces.
Read Also: Do Dental Braces Cause Discomfort?
2. Ceramic Braces
Pros:
Less noticeable than traditional metal braces.
Effective for various types of orthodontic issues.
Stain-resistant ceramic material.
Cons:
They are more expensive than metal braces.
Ceramic brackets may be more fragile.
Regular maintenance is required to prevent discoloration.
3. Lingual Braces
Pros:
Virtually indistinguishable from the front.
Suitable for all age groups.
Effective for complex dental issues.
Cons:
Difficulties with cleaning and adjustments.
Potential tongue and speech discomfort.
It may take longer to get used to compared to traditional braces.
4. Invisalign
Pros:
Cons:
Not suitable for severe orthodontic problems.
Requires strict adherence to wearing time.
They are more expensive than traditional braces.
5. Self-Ligating Braces
Pros:
Cons:
Limited availability and higher cost.
It may not be suitable for complex cases.
Potential discomfort during adjustments.
6. Clear Aligners
Pros:
Removable for eating and cleaning.
Virtually invisible appearance.
Custom-made for a precise fit.
Cons:
Less effective for complex orthodontic issues.
Requires responsible wear to achieve desired results.
They are more expensive than traditional braces.
Must Read: Foods Should Avoid With Dental Braces
Choosing the Right Type of Dental Braces
When choosing the right type of braces, it's essential to consider factors such as the severity of your orthodontic issues, budget, and personal preferences. Consulting with an experienced orthodontist will help you understand which option best fits your needs and lifestyle. Remember that the most effective treatment is the one that addresses your unique dental situation.
Advantages of Dental Braces
Straightening Misaligned Teeth
One of the primary benefits of dental braces is their ability to straighten misaligned teeth effectively. By applying continuous pressure, braces gradually shift the teeth into proper alignment, resulting in a symmetrical smile.
Misaligned teeth can challenge oral hygiene, leading to plaque buildup and an increased risk of gum disease. Braces improve the smile's aesthetics and make it easier to maintain good oral health.
Having a smile that you are proud of can significantly boost self-confidence and self-esteem. Dental braces can correct dental issues that may cause individuals to feel self-conscious about their smiles.
Read Also: Retainers After Braces
Conclusion
In conclusion, various dental braces are available to cater to different orthodontic needs. Each type has advantages and disadvantages; the choice ultimately depends on your requirements. Whether you opt for ceramic braces, lingual braces, Invisalign, self-ligating braces, or clear aligners, the goal remains the same - achieving a healthy, aligned, and confident smile.
FAQs (Frequently Asked Questions)
Are dental braces painful to wear?
Some discomfort is common when getting braces and after adjustments, but it is usually manageable and temporary.
How long will I need to wear dental braces?
The duration of treatment varies depending on the case's complexity, but it typically ranges from several months to a few years.
Can I eat normally with braces?
While traditional braces may have some dietary restrictions, Invisalign and clear aligners allow you to remove them while eating.
Can adults get dental braces?
Absolutely! Dental braces are suitable for people of all ages who wish to improve their smile and correct misalignments.
How often should I visit the orthodontist during treatment?
You must visit your orthodontist every 4 to 8 weeks for adjustments and progress checks.