Choosing the Right Shade: A Detailed Look at Veneer Color Selection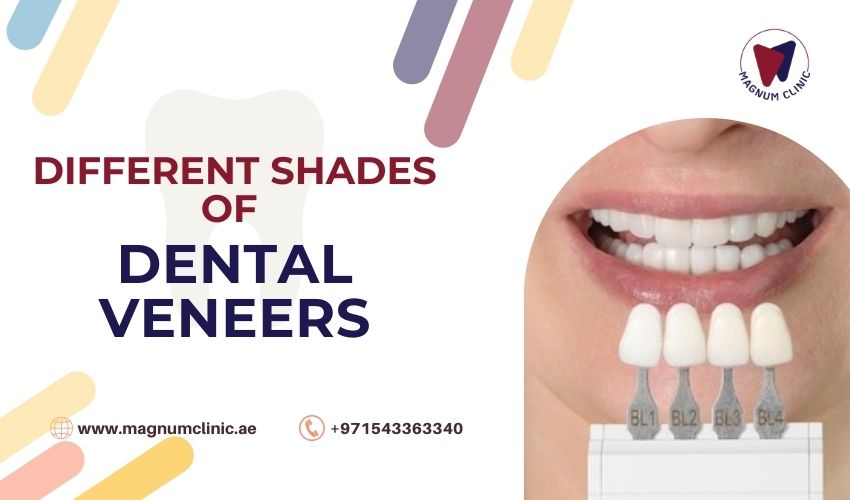 Dental Veneers have transformed lives, and if you are also looking for the same and want to know what the best shade is that you can go for, this quick guide is for you.
Well! Choosing the right dental Veneer colour is not easy. There are plenty of options, and when it's about your teeth, the most evident part of the face, then it's really mind-boggling. So let's have a quick read and find out what the dental Veneer colours are and which are the most popular dental Veneer shades you may opt for. Also, find some very useful and great tips that could help you with your Veneers procedure. Take a look!
Different Shades of Dental Veneers
Talking about dental Veneer colour doesn't mean we can have them in pink, green, blue or something. After all, teeth are white and what could be a better or more popular Veneer colour than it? However, there are various aspects associated with this. 
Most of the time, people demand the brightest and whitest shade of Veneers. But dentists suggest that one should always choose what suits them best. Also, they should know what are the different Veneer white shades available in the Veneers shade chart and what are the things that are important for choosing the right dental Veneer colour.
Veneers shade card has four main colour categories:
Reddish Brown
Reddish Yellow
Grey
Reddish Grey
All these categories further include 11 subcategories from which you can customise your dental Veneers. In some Veneers colour charts or shade charts, a fifth category is also included, i.e., Bleached Shades. These are usually the white Veneer shades. It gives the patient the same effect as teeth whitening. 
Read Also: Different Types Of Veneers
Things You Need To Consider While Choosing Dental Veneer Shades
Well! Everyone is unique. We are not the same in terms of face, colour, age and gender. So, if we use the same shade or just request the whitest Veneer colour, it won't suit. In fact, choosing the wrong Veneer colour may make you look out of proportion. Your teeth may look unnatural, and you may regret having Veneer. So, when choosing the right Veneer shade for you, always go with the dentist's recommendation and remember this list.
Teeth Size
White Veneer colours may amplify your facial characteristics. So, if you choose a whiter Veneer shade, then your teeth may look bigger than their actual size. So, while choosing the right shade of Veneer always heed this point and take your Dentist's suggestion.
Whiter
Skin Colour
Just opting for white dental Veneers may not always attenuate your looks. You should always consider your skin colour and check if your chosen Veneer colour matches your skin tone. 
Number of Dental Veneers
Yes, considering it is also important. If you are having more Veneer placement, then you may have a large list of options from the Veneer shade chart. Having said that, less Veneer number reduces your options. Thus, the dentist, in such cases, suggests the shade that is closest to your natural teeth.
Your Surrounding Teeth
If you are going for a few Veneer placements, such as two or four, it is better to go with the colour of your surrounding teeth. After all, going with different shades may make your teeth look out of proportion. Although if you want to do whitening, then please consider this option only when getting your Veneer placed. 
Eyes
When you smile, your eyes reflect it. Thus, it is always best to keep the shade of your dental Veneer the same as the white sclera of your eyes. However, it is optional.
Read Also: Process Involved In Getting Veneers
Tips You Must Follow Before Your Dental Veneer Color Selection
After going through all these considerations, here are some tips that you must know.
Don't Rush- Veneers last for years. So, don't rush while making any decision about your Veneer tooth shade. Stay calm and take the proper time to consider your options. Once you have selected and placed the Veneers, there is no turning back. 
Talk to your Dentist- This is the most important recommendation. Talk to your Dentist and let them know what you expect and what you desire from your Veneer dental procedure. Discuss how you want it to look and what you want while choosing your Veneer colour. 
Do Research- Yes, research is important here too. Surf the Internet, read dental articles in magazines that include knowledge about Dental Veneers, their colours, Veneer placement procedures and much more. Also, keep in mind what you really need as the dental Veneer and its shade will be what will earn your compliment or regret.
What is the Most Popular colour for Veneers?
The most popular Veneer shades are BL1, BL2 and BL3. Among these, BL1-shaded teeth are called Hollywood white teeth. Since BL1 is the whitest Veneer shade available on the colour chart, it is quite popular. The next shade that is preferred by the extrovert personalities and the people who choose to have more than 8 Veneers, is BL2. BL3 is the most natural white Veneer shade or colour. People with a light complexion may go for BL1 and BL2 Veneer colours, while people with dark complexions may choose BL3 or BL2. However, there is no fixed recommendation on these shades, as the one that suits you best is the one that will always work for you.
Read Also: Cost Range For Veneers
Key Takeaway for the Right Dental Veneers' Colour
Life is too short for regrets, so go for Veneers, look your best and get the dental makeover that you have always desired. Just keep in mind that your Veneer teeth will stay with you for decades. So, make a wise decision and take recommendations from your Dentist for the best choice. Also, once you have chosen the right Veneer colour for you, try to maintain it with daily routine care. Have regular dental visits and make sure there are no functional or dental issues with your Veneers. Especially after having dental Veneers, keep track of follow-up visits so that you may have the best experience with your dental Veneers. 
If you want to know more, have any queries related to dental Veneers or need any recommendations, please contact us or write to us. Our experienced Dentists will make sure you always have a smile curve and bright teeth.