Need to Place Implants? A Dental Implantologist Can Help You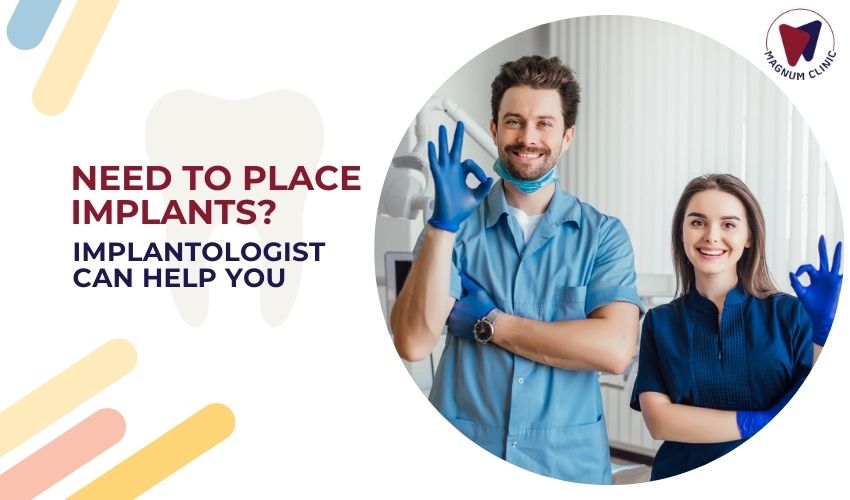 Accidents, tooth decays and sports-related injuries are the few common causes of tooth loss. Thanks to modern dentistry. You don't need to live with a gap in your smiles. Dental implants are one of the most effective restorative treatments to fill the gaps.
A dental implantologist plays a crucial role in placing dental implants on your tooth. He/she can offer you the chance to achieve excellent dental health by following the proper regimes before and after your dental implant.
But first, you need to understand what dental implantology is and how it works in order to understand the working procedure of a dental implantologist.
What is dental implantology?
It refers to the study of restorative treatment procedures like dental implants. Also, it involves how to carry the procedure safely, which causes little pain and anxiety. Dental implantology needs dentists to be well-versed in modern dentistry. Hence, they can provide diagnosis, required treatment and aftercare to the patients.
Dental implants may cause anxiety in patients during the dental implant process. However, the intervention of a dental implantologist might relieve the patients.
Who Is A Dental Implantologist?
A dental implantologist is a dental expert. He/she specializes in tooth replacements with dental implants. The expert can also perform basic dental procedures. Besides, restoring a patient's oral health by restoring the missing teeth is also the objective of a dental implantologist.
An implantologist should have the knowledge, credentials, and experience to perform these activities. It will make their appearance credible to the patient.
How Does Dental Implantology Work?
Based on your present dental health condition, the dental expert may schedule the date to perform a dental implant. This process may take several months to complete. Generally, it involves three phases-
Placement of implant- First and foremost, you need to undergo surgery in order to place the implant on your jaw. There, it will be covered with gum tissue to integrate with the jawbone for the next few months.
Attachment of a post- The implantologist will attach a post to the implant to enable the gum tissue around it. Sometimes, the post and the implant are placed together to serve as support for the replacement tooth.
Attachment of a crown- Your dentist will attach a customised crown to the implant.
Reasons To Visit An Implantologist For Dental Implants
An oral surgeon may replace your tooth with dental implants. However, it is advised to find the most suitable implantologist near you. Here are a few reasons to visit an dental implantologist in Dubai to perform a dental implant procedure-
1. Having years of experience
As the implant experts have already gained experience, it will help them perform the dental implant of your teeth easily and perfectly.
2. Can attend according to your needs
Usually, dental implants are a long treatment. It may take 3-12 months to complete the entire procedure. It also involves other surgeries like bone grafting to restore jawbone health. All these surgeries need a significant recovery before proceeding with the new one. Hence, an implantologist can help you by creating follow-up implant procedures based on your oral condition.
3. Highly skilled
Implantologists have the necessary skills to perform effective dental implantation. Having follow-up training classes and real-life experience, they excel in dental implantation.
4. Handling complex cases
As implantologists have previous experience handling complex cases, it would also help you if you're facing severe dental issues.
5. Countering possible complications
An implantologist can install dental implants to counter probable complications like further bone loss, loose implant, space between your implant and natural teeth etc.
Benefits Of Dental Implants Done By An Implantologist
Dental implants offer various benefits compared to tooth replacement options like dental bridges or dentures. Here you go-
1. Helps to regain bite force
As the dental implants are anchored into the jaw with a titanium post, it enables the biting force again your natural teeth.
2. Matches your original teeth
The implantologist can decide the shape and size of the dental implant that matches your original teeth. The advantage is that dental implants come in various shapes and sizes to help the expert fix the dental implants for your teeth.
3. Bone loss prevention
Once you lose your tooth, you also lose bone mass in your jaw. Dental implants can help prevent bone loss by replacing jaw bone stimulation.
4. Allows natural speech
Missing teeth may alter your speech. However, a dental implant can help you as its works like a natural tooth. Once done correctly, you can speak easily with a natural flow.
5. Less chance of cavity formation
The material used for dental implants won't decay. Therefore, the chances of having cavities in your tooth will be lower.
6. Fills the gap
If your missing tooth causes a gap, it can cause the other teeth to shift their position. Therefore, it will cause misalignment. Dental implants will fill this gap to help you maintain an even smile.
Our Implantologists Are Prepared Too!
The success rate is 99% regarding dental implantation performed by the experts of Magnum Clinic. So, you will be in excellent hands if you choose this option to complete your smile. Based on your jawbone health, our experts will suggest you the best option. Call us to schedule an appointment today!