Start Achieving your Dental Aesthetic Goals with Ceramic Braces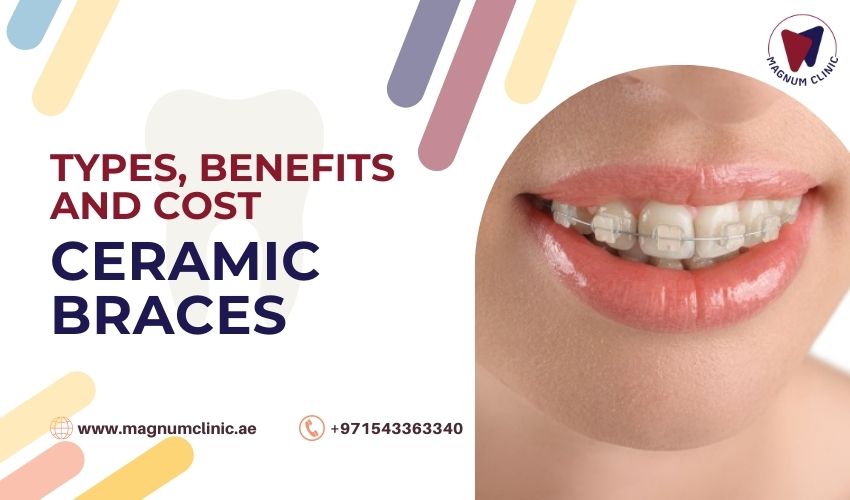 "Out of 10 people, 7 are opting for ceramic braces for a straighter smile in Dubai. It has white, clear and frosted options for wires, rubber bands and brackets."
Like conventional metallic braces, ceramic braces aren't easy to spot. It helps the patients to feel less-self conscious while they smile.
Not just one benefit, ceramic braces have other advantages too over metal braces for teeth.
Are ceramic braces will be effective in correcting your jaw alignment?
Let's dive in.
What are ceramic braces?
Ceramic braces are either tooth-coloured or translucent alternatives to metal brackets. These braces are comprised of ceramic brackets. These are more rounded than the metal ones. Besides, the metal archwire's colours would be blended with your smile once you wear them. The elastic bands can help pull your teeth into proper alignment over time.
Ceramic braces are similar to traditional braces for the treatment duration, application and removal. However, it offers a discreet appearance to those patients who wants to avoid noticeable metal brackets. Also, it is suitable if an individual wants to avoid longer treatment times with any other type of aligner.
These transparent braces can correct dental issues like misaligned teeth/jaw, overbites, underbites, crooked teeth, mismatched dental midlines and crossbites. If left untreated, these issues can lead towards misaligned jaw growth, improper chewing habits, tooth stratification etc. Ceramic mouth braces can eliminate these issues over time.
How do ceramic braces work?
Orthodontists fit ceramic braces for teeth. The procedure is the same as metal braces. Brackets are bonded to the teeth front. On the other hand, rubber bands are used to support the archwire.
Ceramic transparent braces function the same way as metallic ones. The archwire is connected to each bracket and is designed to address tooth alignment issues and bite replacement. The rubber band ensures the teeth can move properly by holding the archwire.
Types of ceramic braces
There are mainly three different types of ceramic braces for your teeth. Here you go-
Clear ceramic braces - This brace can be made from ceramic or plastic. Besides, aluminium compounds are used to make clear ceramic braces durable and stain resistant. If your teeth are white, these braces would be great for you. As the material is transparent, it will disappear on the teeth' surface. The cost of clear braces may vary based on your oral condition and the expertise of a ceramic orthodontist.
White ceramic braces - To create the whitish colour of these brackets, a different aluminium compound is used. The brackets will match your present tooth shade.
Coloured ceramic braces- Like coloured metal braces, there are various coloured elastics. It suits kids' braces as they might choose the colour option.
Ceramic braces vs conventional metal braces
| | |
| --- | --- |
| Ceramic braces | Conventional metal braces |
| 1. Ceramic braces use polycrystalline alumina for the formation of brackets. | 1. Metal braces are made of medical-grade stainless steel. |
| 2. Ceramic braces are less durable compared to metal ones as the bracket material isn't strong. | 2. Metal braces are more flexible and durable than ceramic braces. |
| 3. Due to the lighter colour, ceramic brackets may stain quickly. | 3. Metal braces won't stain quickly. |
| 4. Ceramic dental braces are less noticeable as they blend quickly with teeth colour. | 5. Metallic braces are extremely noticeable against your white teeth. |
| 5. Ceramic braces cost more than metallic braces for using expensive and delicate materials during bracket formation. | 5. Metal braces are less costly compared to ceramic mouth braces. |
Benefits of ceramic braces
If you're considering ceramic teeth braces, here are a couple of benefits you should know.
1.Discreet
Imagine you're going to a party or first date with metal braces visible in your mouth. Ceramic braces can help you out with their discreetness. Although ceramic dental braces hold the same shape as metal ones, the brackets are clear, small and invisible. It is designed to maintain discreetness while wearing a ceramic brace.
2. No demineralisation of tooth's enamel
With advanced orthodontic technology, ceramic braces won't demineralise your tooth's enamel. To prevent demineralisation and colour change, a bonding agent is used. Adhesives are used so that the ceramic braces stay glued throughout the usage.
3. Easy to remove
Once your treatment is finished, clear ceramic braces will come off easily. Technological advancement paved the way for the removal of ceramic dental braces.
4. Coloured archwire
Although the braces will be made of durable and transparent ceramic material, a metal archwire will connect the same outside of your teeth. You may think of a big metal wire. Instead, you have the option of using a coloured wire which will blend with your teeth. For example, ceramic braces with white wire can fix your smile without showing it in your daily life.
5. Comfortable
Ceramic dental braces are more comfortable than traditional metal braces. The ceramic material and rounded brackets would cause less discomfort to your teeth and gums. The ceramic braces are more bearable than the metal counterparts.
Tips to take care of your ceramic braces
As ceramic braces are porous, they are susceptible to stains. The small elastics holding the wires are also prone to staining. Here are some tips to take care of your braces-
Avoid crunchy foods
Avoid drinks and foods high in pigmentation like tomato sauce, red wine, berries etc.
Wear a mouthguard while sleeping or playing sports to reduce the damage to your braces and teeth.
Brush your teeth twice and floss daily.
Refrain from smoking or using tobacco products.
Use a floss threader to clean hard-to-reach areas.
What is the price of ceramic braces in Dubai?
Ceramic braces price start at AED 7000 to 17000. However, depending on your oral condition, it may vary from one dental clinic to another. 
Let's keep that smile straight
Misaligned teeth will soon become a nightmare once you feel deprived of throwing a warm smile at your near and dear ones. It won't go away on its own until you take the initiative. To eliminate this situation, we are here to provide you with ceramic braces that properly align your jaw and teeth. Reach us today to book your appointment with one of our vetted orthodontists.