The Best Teeth Whitening Strips and Kits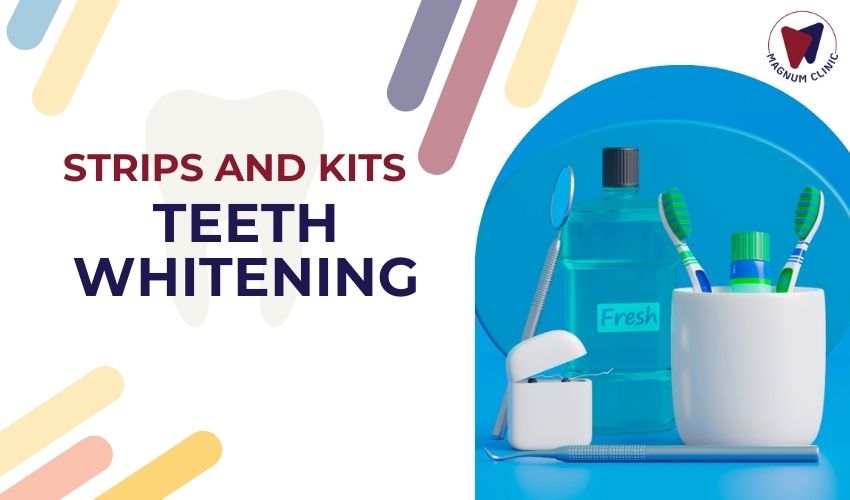 Teeth whitening strips and kits are an excellent alternative for those who want to whiten their teeth at home. They are treatments designed for oral care that give you a beautiful smile.
Although the best option would be to visit a local dentist, many people do not have enough time and require cheaper treatments that can be purchased at a pharmacy. If you're considering buying a whitening kit and need to know which one to choose, here's a list of the best strips.
Over The Counter Teeth Whitening Strips
One of the main ingredients in teeth whitening strips and kits is carbamide peroxide or hydrogen peroxide. The latter is a relatively stable compound and a diluted version of hydrogen peroxide.
The dentists in his office use whitening products with peroxide as an active ingredient. Specialists say that over-the-counter whitening products also have other ingredients to ensure their quality and better taste.
You must buy quality products with the right ingredients to avoid inconveniences affecting your gums. By visiting a qualified dentist, you will take all the necessary precautions, and your treatments will be professional and effective.
The dentist will make sure that the whitening product does not touch your gums and only touches your teeth, as these products can burn your gums. Therefore, when buying teeth whitening strips, you must follow the instructions indicated by the manufacturer to have good results.
When shopping for a teeth whitening kit, you should look for one that is easy to use, safe, and has a good shelf life. Experts say that when you get your hands on the product, you can start using it for 7-10 days. Then for maintenance, you will need to use it once every two weeks.
Remember to visit your dentist before using teeth whitening strips and kits. This way, you will have a complete evaluation and a dental cleaning for better results.
The Best At Home Teeth Whitening Strips and Kits
To improve your smile and have whiter teeth, you can consider one of the best teeth whitening strips from this list:
1. Colgate Optic White Comfort Fit Teeth Whitening Kit
Colgate is an American oral care brand popular worldwide that makes some of the best teeth whitening products. Many certified dentists are fans of Colgate's teeth whitening for sensitive teeth products.
Optic White ComfortFit is on the list of high-quality teeth whitening strips and kits with flexible, rechargeable LED light for added effectiveness. The LED light adapts perfectly to the shape of the mouth, and its use is easy and simple. You will only need to apply a thin layer of the whitening product to each tooth.
You must allow the product 10-15 seconds for the serum to dry or set and then connect the LED device directly to your phone. Leave the product for 10 minutes to do its work, don't worry about timing; the device will automatically turn off after that period.
Then, use your toothbrush to remove the dried whey. Avoid drinking and eating for 30 minutes.
2. Plus, a White 5 Minute Teeth Whitening Kit
If you want mouth trays to whiten your teeth, Plus White's 5-minute whitening kit is the best option. It is an effective and easy-to-use whitening gel that will whiten your teeth at home. It is made with professional and high-quality ingredients that allow you to guarantee an effective result in a short time.
It is one of the most popular homemade teeth whitening strips and kits on the market due to its effectiveness and speed. This whitening kit causes little tooth sensitivity and is inexpensive.
3. Crest 3D White Whitestrips Teeth Whitening Kit with Professional Effects
Crest Whitestrips are one of the best teeth whitening products on the market. It is available over the counter and is recommended by the best-certified dentists in the country. It would help if you used the strips correctly to have excellent results.
According to Crest, the hydrogen peroxide in the strips can remove up to 14 years of stains. With Crest 3D Whitestrips, you can have professional whitening without leaving your home.
4. Crest 3D Whitestrips for Sensitive Teeth
Among the best whitening strips for sensitive teeth is Crest 3D Whitestrips for Sensitive Teeth, a high-quality whitening product for people with dental sensitivity.
The main active ingredients of this product are hydrogen peroxide and glycerin, which allows better penetration to neutralize stains. It is undoubtedly the best teeth whitening for sensitive teeth at home.
You must follow the manufacturer's instructions and advice to avoid irritation to your gums. You should avoid putting the strip on your gums and avoid talking while wearing them to prevent slipping and slipping.
5. Moon Midnight Enamel Care Dissolving Whitening Strips
Moon Midnight whitening strips are a great remedy for sensitive teeth. For better care of the enamel completely, they disappear in about 15 minutes.
Moon Midnight's primary ingredient is hydrogen peroxide, but the product's comprehensive formula makes it ideal for people with dental sensitivity. In addition, they use Enamel Pro+ to remove stains gently for a bright smile.
One more of its fixings is hydroxyapatite, a characteristic substance that secures and reestablishes lacquer for better brightening. Additionally, hydroxyapatite keeps cavities from appearing. You can brighten up to 7 shades in about a month; You will experience the entire process while you sleep.
Its application is easy and does not require rinsing, plus it has a mixture of lavender and chamomile to soothe gums.
Conclusion
Any teeth whitening strips and kits on this list are available over the counter and will give you good results. They are whitening products and are perfect for people with dental sensitivity. It's important to note that teeth whitening strips and kits can effectively whiten the surface of teeth, but they will not address any kind of dental issues. Orthodontic treatment may be necessary to help you improve your teeth for a more balanced and aesthetic smile.
Remember to visit a certified dentist who can evaluate your mouth and help you get long lasting pearly white teeth.
FAQ (Frequently Asked Questions)
1. How do teeth whitening strips and kits work?
Teeth whitening strips and kits typically contain a bleaching agent, usually hydrogen peroxide or carbamide peroxide, which helps break down and remove stains on the surface of the teeth. The strips are applied to the teeth and left for a specified duration, allowing the whitening gel to penetrate and whiten the enamel.
2. Are teeth whitening strips and kits safe to use?
When used as directed, teeth whitening strips and kits are generally safe. However, following the instructions and not exceeding the recommended usage time is important. Some people may experience temporary tooth sensitivity or gum irritation, but these side effects are usually mild and subside after discontinuing use.
3. How long does it take to see results with teeth whitening strips and kits?
The time required to see results can vary depending on the brand and concentration of the whitening agent. Typically, noticeable improvements can be seen within a few days or weeks of consistent use. However, individual results may vary, and it's important to be patient and continue the treatment as instructed.
4. Can teeth whitening strips and kits remove all types of stains?
Teeth whitening strips and kits effectively remove surface stains caused by coffee, tea, wine, and tobacco. However, they may not be as effective on deeper, intrinsic stains caused by factors like genetics or certain medications. Professional dental clinic treatments such as in-office whitening or professional take-home kits may be recommended for more stubborn stains.